Events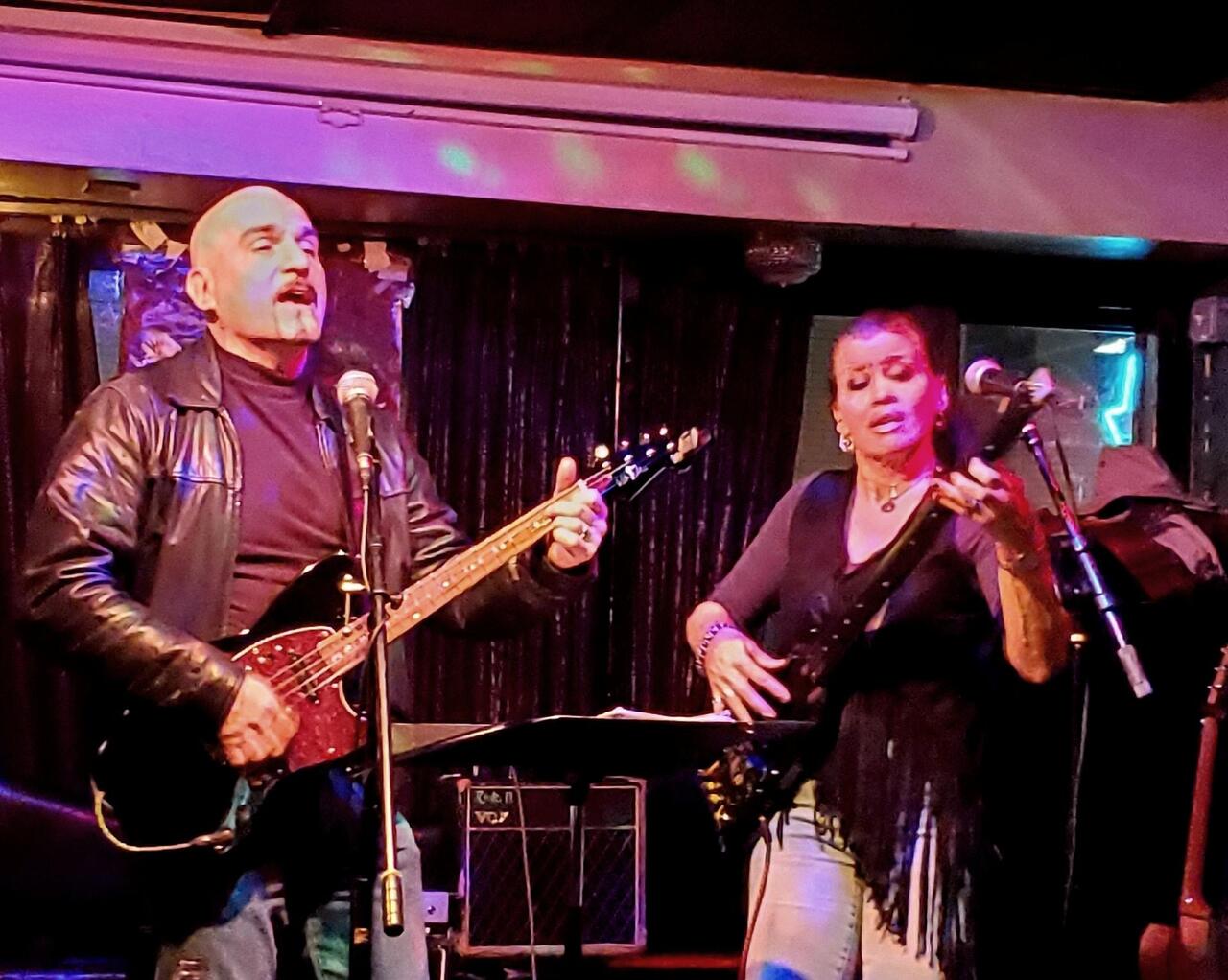 GREAT WEATHER FOR MEDIA'S Spoken Word Sundays NYC
Sunday, March 1, 2020
4:00 PM 6:00 PM
The Parkside Lounge317 East Houston StreetNew York
Featuring Billy Lamont and John Pietaro
Hosted by David Lawton
Plus open mic
21+
$3 suggested donation. Two drink min, alcoholic or non.

John Pietaro is a writer, poet, spoken word artist and musician as well as curator of the "West Village Word" series at Café Bohemia, NYC. Columnist and critic of the NYC Jazz Record, he's currently engaged in a book project for Berklee College of Music and writing a first novel, among other ventures. Credits include poetry chapbook Smoke Rings (2019), short fiction collection Night People (2013), a chapter in Paul Buhle/Harvey Pekar's SDS: A Graphic History (2007) and numerous published essays, reviews, poetry, reportage and fiction. As a performer, he's shared the stage with a wide variety of artists including Allen Ginsberg, Amina Baraka, and his duo with bassist Laurie Towers, SHADOWS.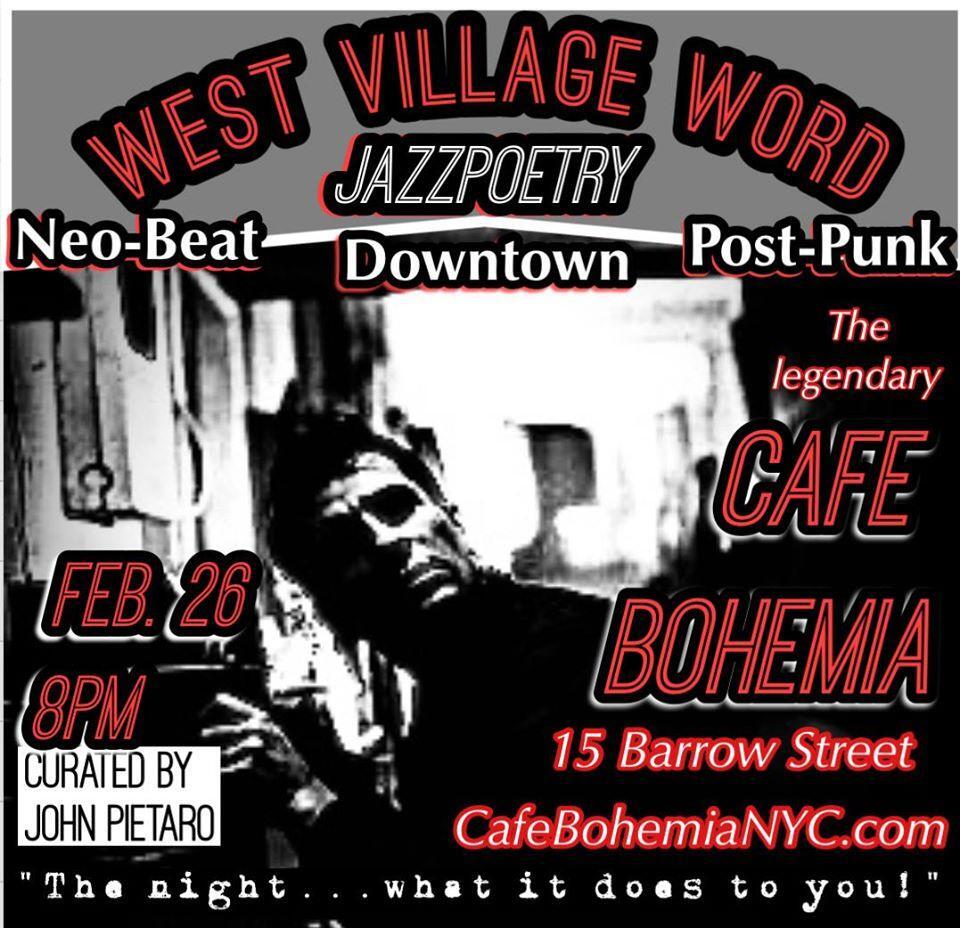 West Village Word, a monthly curation at the legendary Cafe Bohemia by poet and jazz journalist John Pietaro, launches Wednesday, February 26. The series, planned for the last Wednesday of each month, will present integrated spoken word and music, conjuring Greenwich Village's underground arts past while exploring today's unique JazzPoetry, Neo-Beat and Post-Punk poets.
Café Bohemia was a favorite 1950s haunt of jazz legends such as Miles Davis, Charles Mingus, Art Blakey and Cannonball Adderly as well as the original Beat Generation writer, Jack Kerouac. The club, recently re-opened in its original address, is already being touted as a space for a creative community displaced by ever-rising costs. "The heritage of this place is built into its foundation", Café Bohemia manager Christine Santelli states. "You can feel it. Between 1955 and '60, most every jazz great played here and many recorded live on the club's stage". The space's history goes back to the 1940s when, as the Pied Piper, it hosted stride piano pioneer James P. Johnson and traditional jazz trumpeter Max Kaminsky.
With live music scheduled seven nights per week—from the "cool" progressive and trad "hot" jazz schools, rollicking blues and folk, and a new residency by noted singer-songwriter Michelle Shocked, the club's promise has quickly been realized. "All that was missing was performance poetry", said West Village Word curator Pietaro. "Hey, the Beats walked these quarters".
Calendar
FEB 26
-8PM: SHADOWS- John Pietaro and Laurie Towers
-8:10: PUMA PERL & FRIENDS- the self-descibed rock and roll poet fronting a quintet of downtown perennials cascading over rock and Beat imagery, Coney Island tales and visions of the lower East Side.
-10PM: LINDSEY WILSON & THE HUMAN HEARTS- singer/guitarist/poet/actor and her trio explore stories of city life and justice.
MAR 25
-8PM: SHADOWS
-8:10 PM: RONNIE BURRAGE SOLO- The celebrated drummer reads works of his grandfather, poet Allan David Mahr, and performs on piano and drumset.
-9:30PM: ELLIOT LEVIN/JOHN BLUM/JACKSON KRALL TRIO: Celebrating Cecil - the free jazz saxophonist/poet celebrates the birth anniversary of Cecil Taylor and the liberty inherent in the music.
-10:15PM: THE MOTHER OF ALL FINALES – West Village Word commemorates Women's History with an all-female free jazz and word explosion! (musicians/poets TBA)
Later bookings currently being verified. See www.FaceBook.com/WestVillageWordatCafeBohemia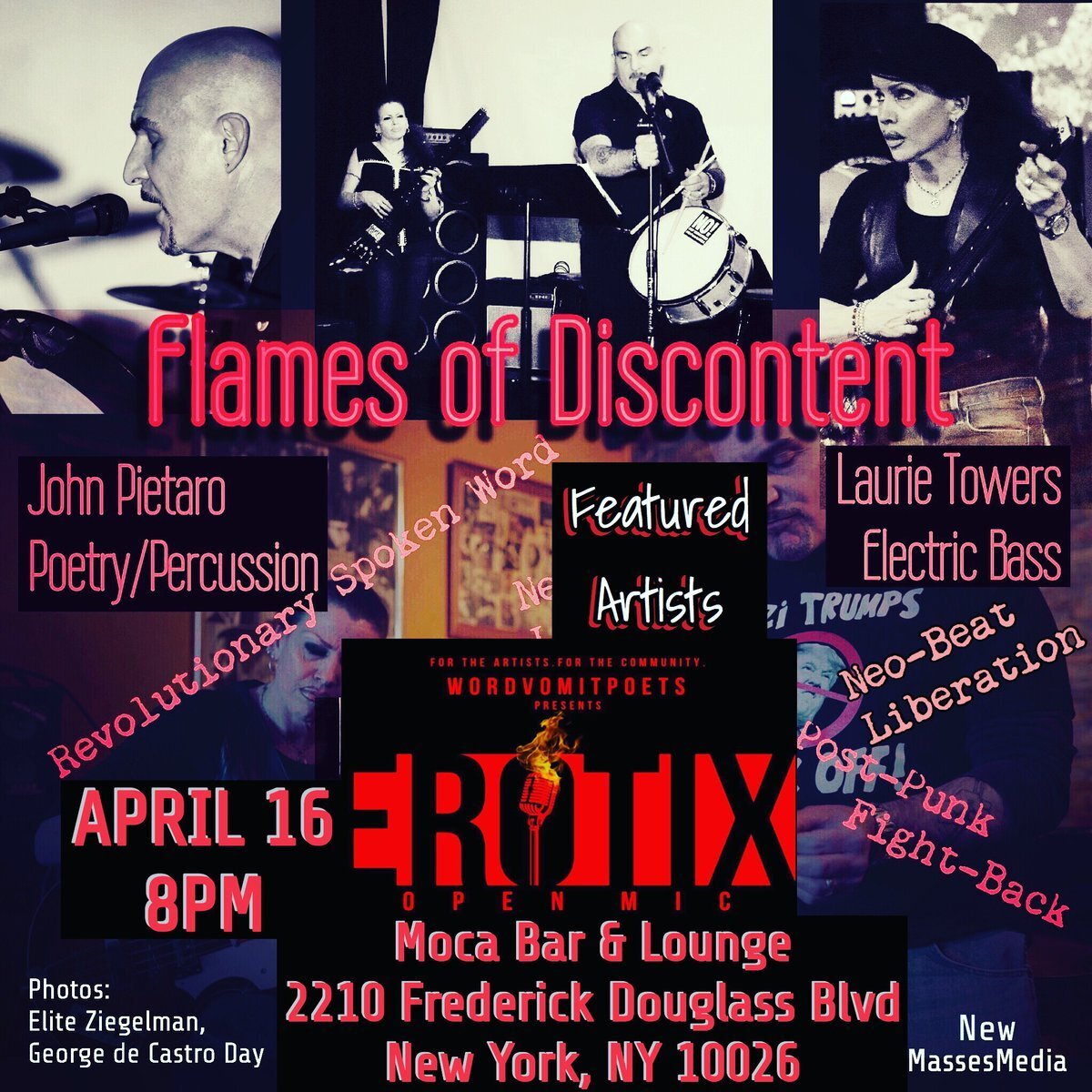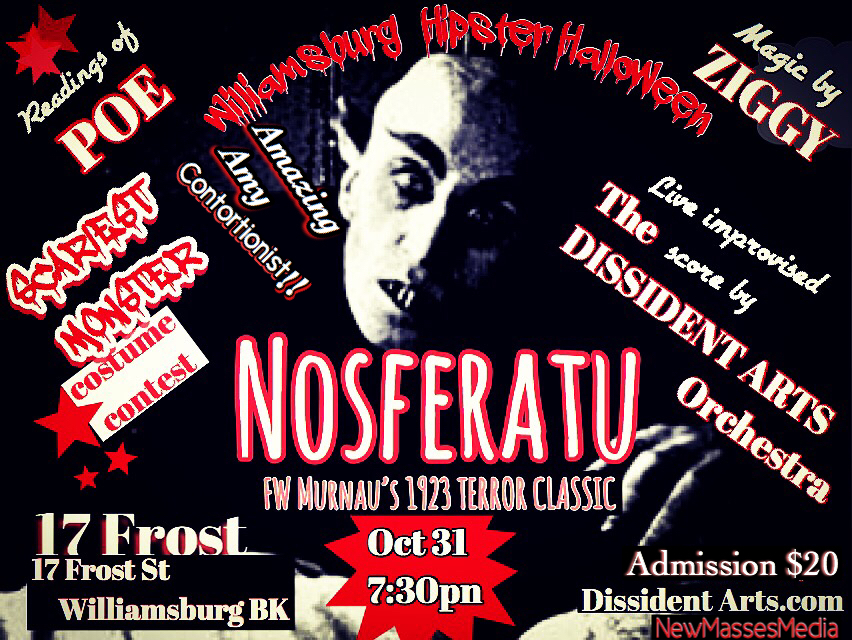 WEDNESDAY, OCTOBER 31ST, 2018
17 Frost Theatre of the Arts
WILLIAMSBURG HALLOWEEN - "NOSFERATU" Halloween screening w live score - 7:30pm
17 Frost Street
Brooklyn New York
Price: $20
New Masses Media and 17 Frost Gallery & Theatre present WILLIAMSBURG HALLOWEEN with
FW Murnau's 1923 terror classic "NOSFERATU" with a live, improvised score by the Dissident Arts Orchestra.
Plus-
Magic by ZIGGY!
AMAZING AMY Spectral Stretch Contortionist!
Readings of Edgar Allen Poe!
-and-
SCARIEST MONSTER CONTEST: get into your most dreadful drag
***
THE DISSIDENT ARTS ORCHESTRA
John Pietaro: musical direction, drums, percussion
Cheryl Pyle: flutes
Rocco John Iacovone: alto and soprano saxophones
Ras Moshe Burnett: tenor saxophone, flute
Chris Forbes: piano
Javier Hernandez-Miyares: electric guitar
Laurie Towers: electric bass

17 Frost - Oct 31, 7:30 pm - $10 donation
17 Frost Street, Williamsburg Brooklyn - within reach of the skeletal shadow of the BQE (and the L)
www.DissidentArts.comwww.17Frost.com
Dissident Arts Festival benefits families of political prisoners, celebrates free expression
New York, NY/Brooklyn, NY (August 3, 2018) – The thirteenth annual Dissident Arts Festival, a showcase of revolutionary creativity, will occur on stages in Williamsburg, Brooklyn and Manhattan's East Village on September 8 and 15, respectively. The Festival will raise funds for three organizations relevant to the movement for social justice and feature markedly outspoken statements against repression in a reactionary time.
SEPTEMBER 8's edition at 17 Frost Theatre and Gallery, a premiere performance space in Williamsburg, is dubbed Cabaret of Dissent. It will benefit the Rosenberg Fund for Children, a non-profit public foundation that aids children of targeted, progressive activists. The event inspired by Weimar Berlin, New York's Café Society and downtown arts, includes speaker Jenn Meeropol, granddaughter of Julius and Ethel Rosenberg and Director of the Rosenberg Fund, esteemed jazz singer Judi Silvano who adds voice to experimentalists the Beyond Group, pianist Chris Forbes presents "Harmolodic Weill", liberation jazz and spoken word by the Red Microphone, celebrated bassist/poet Larry Roland debuts his new all-star band They Come With Gold, and noted poetry duo Raymond Nat Turner and Zigi Lowenberg. The closing act is rising star singer/songwriter Lindsey Wilson & the Human Hearts and throughout the evening the politically-charged paintings of Brooklyn visual artist Sophia Dawson will be projected over the stage.
On SEPTEMBER 15 the action moves to the 5C Café and Cultural Center, long-standing home of avant jazz and bold performance, where funds will be raised for the Alliance of Families for Justice and the NYC Jericho Movement. Both organizations advocate for the unjustly incarcerated and call for urgent prison reform. The evening opens with a solo performance by renowned drummer William Hooker, and includes 5C's own pianist/composer Trudy Silver, Ras Moshe's Music Now! and the Flames of Discontent duo of Festival director John Pietaro and Laurie Towers. The closing act is international songwriter Martina Fiserova.
Saturday September 8, 7pm-11pm, 17 Frost Theatre and Gallery, 17 Frost Street, Brooklyn NY. Admission: $15. Saturday September 15, 7pm-11pm, 5C Café & Cultural Center, E. 5 Street/ Ave C, New York NY. Admission: $15.
For more information and a complete Festival schedule see www.DissidentArts.com
Press Contact: New Masses Media John Pietaro (646) 599-0060 leftmus@earthlink.net

DISSIDENT ARTS FESTIVAL 2018 – PERFORMERS/SPEAKERS:
SEPT 8
17 FROST THEATRE AND GALLERY, 17 Frost Street, Brooklyn NY
RAYMOND NAT TURNER & ZIGI LOWENBERG:
-Poetry, spoken word
THE BEYOND GROUP:
Cheryl Pyle- C flute, alto flute
Michael Eaton- soprano saxophone
Larry Roland- bass
Reggie Sylvester- drums
Judi Silvano- guest vocalist
SPEAKER: Jenn Meeropol, Director, Rosenberg Fund for Children
THEY COME WITH GOLD:
Larry Roland- bass, poetry, spoken word
Daniel Carter – reeds, brass
Michael Moss- reeds, winds
Steve Cohn- keyboard
Marvin Bugulu Smith- drums
THE RED MICROPHONE:
John Pietaro- percussion, spoken word
Ras Moshe Burnett- saxophones, flute
Rocco John Iacovone- saxophones
Laurie Towers- electric bass
HARMOLODIC WEILL:
Chris Forbes- piano
LINDSEY WILSON & THE HUMAN HEARTS:
Lindsey Wilson- vocals, guitar, spoken word
Reggie Sylvester- drums
Michael Trotman- electric bass
SEPT 15
5C CAFÉ & CULTURAL CENTER, E. 5 Street/ Ave C, New York NY
WILLIAM HOOKER:
-solo drums
MARTINA FISEROVA:
-vocals, guitar
SPEAKERS: Tajuana Johnson and Kwesi Dash, Alliance of Families for Justice
TRUDY SILVER:
-piano, voice
THE FLAMES OF DISCONTENT:
John Pietaro- spoken word, vocals, percussion, banjo,
Laurie Towers- electric bass
with guest Rocco John Iacovone, alto saxophone
RAS MOSHE'S MUSIC NOW!
Ras Moshe Burnett- saxophones, flute
Jair-Rohm Parker Wells- bass
Leonid Galaganov- drums
John Pietaro- hand drums, percussion
DISSIDENT ARTS FESTIVAL HISTORY:
Since its inception in 2006, the Dissident Arts Festival has been a powerful vehicle to bridge radical arts to progressive socio-political activism. Increasingly, the Festival has gained media attention over the course of its decade-long history as evidenced by press in TimeOut NY, the Indypendent, the Villager, the NYC Jazz Record, Downtown Express, Peoples World, Chronogram and others as well as an endorsement by noted jazz journalist Howard Mandel. Over the years the Dissident Arts Festival has been sponsored by the Rosenberg Fund for Children, the National Writers Union, the Len Ragozin Foundation, Local 802's Justice for Jazz Artists campaign, Occupy Musicians, the Howland Cultural Center and DooBeeDooBeeDoo music blog.
Originally based in the Hudson Valley and moving to New York City in 2010, the Festival's performers and speakers over the years included folk music legend Pete Seeger, actor/raconteur Malachy McCourt, revolutionary poet Amina Baraka, late great trumpet player Roy Campbell, filmmaker Kevin Keating, spoken word artists Steve Dalachinsky and the late Louis Reyes Rivera, political satirist/activist Randy Credico, the late saxophonist/composer Will Connell, multi-instrumentalist Daniel Carter, Chilean guitarist Luis ToTo Alvarez, protest song maven Bev Grant, hip hop ensemble ReadNex Poetry Squad, labor leader Henry Foner, Anti-Folk founder Lach and many more. Films screened include 'Giuliani Time', 'Cultures of Resistance', 'Salt of the Earth', 'Battleship Potemkin' and 'Metropolis'. Other special features were tributes to Paul Robeson, Bertolt Brecht, Woody Guthrie, and Phil Ochs. The Dissident Arts Festival has also offered a voice to progressive political candidates, the Occupy movement and radical labor organizations.
Festival Producer/Host: John Pietaro
www.DissidentArts.com
www.JohnPietaro.com
###
Pietaro's liberation music ensemble the Red Microphone features the leaders spoken word, drums and percussion. The band regularly collaborates with noted poet/actress/activist Amina Baraka.
Performances include
-The Commons, Brooklyn NY October 30, 2017 (commemoration of John Reed's 130th birth anniversary)
-The Colony, Woodstock NY November 11, 2017
-Wayward Social, Brooklyn NY November 19, 2017
-Arts for Art Evolving series, New York NY, January 2, 2018